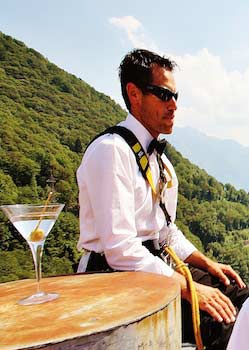 Advance notice -
Costume jumping on Sunday, 10th September 2017

Special jump with lots of fun!
Life must be funny sometimes! Do you want to experience something special? Then bring your favourite costume and come over on Sunday, 10th September 2017 from about 13.00 h - 17.00 h and be part of our spectacular costume jumping which will take place on the Verzasca Dam!
Dress up as "the original" James Bond or come with your Superman dress; take your wedding dress out of the closet, jump as Kermit the frog or as a Panda bear... give reign to your imagination! But do bring your own costume (we do not provide any)!

Save your spot already today for this exclusive day!
Please note:
Space is limited and subject to the order/incoming of the bookings.

The costumes must not contain any sharp objects, elements or angles which could jeopardise your safety. Furthermore no loose objects that could get lost or present a danger to the jumper and the crew.

Each Bungy Jumper is responsible for his/her own costume. Trekking Team Ltd. shall not be liable for eventual damages to a costume.

Every dressed up Bungy Jumper receives a digital souvenir photo, which will also be published in our exclusive interent picture gallery.