Advance notice - 007 costume jumping
Last Updated on 17 March 2016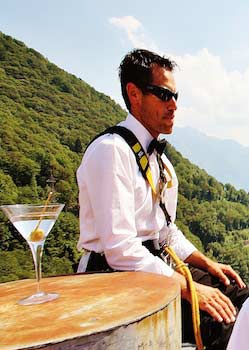 Save the date! Advance notice:
Costume jumping on Friday, 8th July 2016

Special event on the occasion of our 20 year anniversary during the Moon & Stars Festival in Locarno
Combine your visit to the Moon & Stars festival with another unique highlight: On Friday, 8th July 2016 from ca. 13.00 h - 17.00 h our spectacular costume jumping will take place on the Verzasca dam!
Dress up as "the original" – James Bond or don your Superman dress; take your wedding dress out of the closet, jump as Kermit the frog or as a Panda bear... give reign to your imagination! But do bring your own costume (we do not provide any)!

Save your spot today for this exclusive day and show your friends and make your 007 jump an original and creative one and an even greater event!
Important note:
Space is limited and subject to the order/incoming of the bookings
The costumes must not contain any sharp objects, elements or angles which could jeopardise your safety. Furthermore no loose objects that could get lost or present a danger to the jumper and the crew.
Each Bungy jumper is responsible for his/her own costume. Trekking Team Ldt. shall not be liable for eventual damages to a costume.
Every dressed up Bungy jumper receives a digital souvenir photo, which will also be published in our exclusive internet picture gallery.