Oeffnungszeiten 007 Bungy Jump 2017
Last Updated on 16 May 2017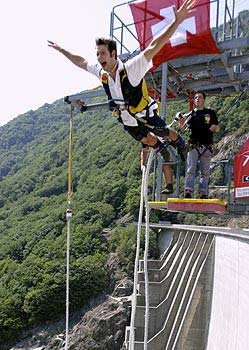 007 Bungy Jump - Winterbreak until Easter 2017

Re-opening: Saturday, 15th April 2017!
Opening times 2017:
From the Easter Weekend (15th/16th April 2017) until 29th October 2017 every Saturday and Sunday afternoon.
From the 5th July until 25th August 2017: additionally under the week from Wednesday until Friday; also in the afternoon.
For Groups of a minimum of 5 persons it's also possible to book beside the official opening times during the whole season.
Fullmoon-Bungy-Jumping - the absolute adrenaline kick - takes place in Summer 2017 on the following dates: Saturday, 8th July and Saturday, 26th August 2017.